Top Detox Retreats To Reset Your Body & Mind
The go-to resource for planning your detox retreats. Find all you need to know about top destinations and how to rejuvenate.
Discover Detox Retreats now
Looking for a vacation to clear your mind and unwind? The stress of your daily life can affect more than just your mind – it can affect your entire body as well.
Want a quick recipe? Why don't you get away from it all by going on a detox retreat? This is your time to clear your mind, restore your body, and rejuvenate. Relax by a pool, treat yourself with spa days, and pamper your body, mind, and soul while eating and drinking only healthy meals that will give you a good cleanse.
Across the world, you can find amazing resorts that cater to detox travel, specializing in healthy food options, fitness activities, ultimate spas and massages, and mental activities to make sure your days at the resort are worry-free and that you head back home in a healthier state.
Want some suggestions of places to go for a detox holiday? Check out these amazing locations, you'll be daydreaming about your days here for weeks to come.
What could be more healing than a vacation in the birthplace of meditation and yoga? At the Samadhi Yoga Ashram Retreat, in Rishikesh, India, you can enjoy yoga classes, meditation and mantra chanting, detox cleansing, and more.
Set in the Himalayas, this retreat will allow you to take advantage of the unique and breathtaking nature all around you, with nature walks in the mountains. And of course, while in Rishikesh, you have to learn all about the healing powers of Ayurveda, the ancient holistic healing process that came from the region. At the Samadhi Yoga Ashram Retreat, you can even learn how to incorporate Ayurveda into your daily meals.
Spend your days relaxing on the pristine blue sea and white sand beaches of Jamaica. Filled with healthy eating options, outdoor adventures, meditation, and yoga, your days spent at the Go Natural Sanctuary will leave you feeling more than just a little refreshed and relaxed.
Treat yourself to massages, yoga classes, cooking lessons, hikes to waterfalls, art therapy, and chakra classes. The retreat specializes in master detox and healthy lifestyles.

Looking for a trip to Europe? Why not make it a detox trip at the Moinhos Velhos Yoga Retreat Center, in Portugal. The center specializes in teaching you how to live a healthy lifestyle and detoxifying through juice cleanses.
During your retreat, you'll be fed broth and juices. But don't be scared, this cleanse is said to be very healing and refreshing. Your days are sprinkled with yoga workshops, meditation sessions, holistic education classes, and beach trips to explore some of Portugal's natural beauty.
During the retreat, your body will go through an immense healing process to rid itself of all waste and toxins. That's why it is ranked as one of the most popular detox resorts in Europe.

You'll feel as alive as the hills in this Alpine resort. The Traumhotel Alpina in Austria not only provides you with stunning scenery and fresh mountain air to fill your lungs, but also with yoga, meditation, Ayurveda treatments, and more.
From mountainside trails to natural lakes to skiing in the winter, Traumhotel Alpina's location in the Austrian mountains gives you plenty to do. Learn Hatha Yoga, take an Ayurveda class, learn about healthy eating, or if the weather's nice, take a hike and combine it with some yoga on the trails.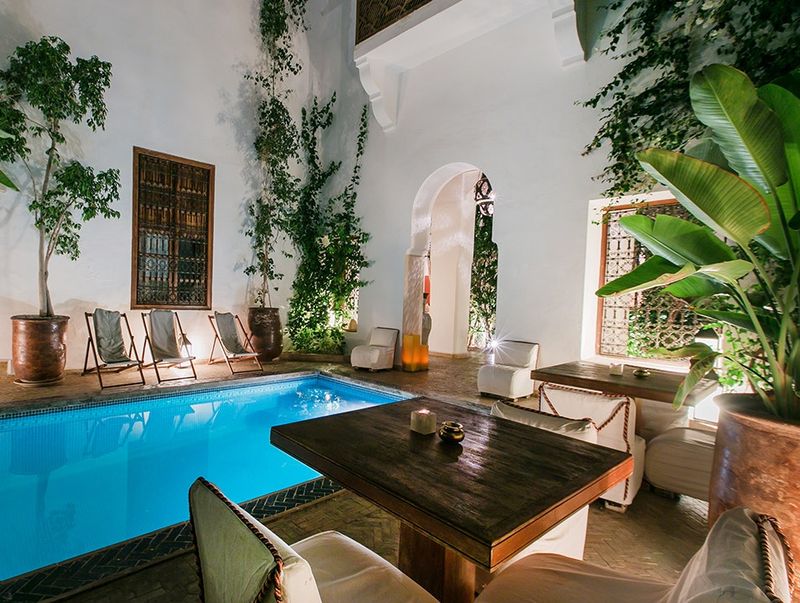 Located in Marrakech, Morocco, your stay at the KechEvents Retreat will be filled with all the wellness and mindfulness your body and soul need.
Take advantage of daily yoga and meditation sessions with an experienced instructor, enjoy one 1-hour relaxing massage and daily vegetarian brunch and dinner, as well as a healthy snack. The retreat takes place at Riad de l'Orangeraie, an elegant venue located right in the heart of Medina (Marrakesh's old town). You can request additional activities such as Moroccan cuisine cooking classes, wellness treatments in a close-by spa, or a half-day tour of the Medina.
---
Ready to go on a detox holiday but are still saving some money for it? Wait no more, there are plenty of affordable detox retreats out there!