6 Fast Detox Juice Recipes for Weight Loss
The go-to resource for planning your detox retreats. Find all you need to know about top destinations and how to rejuvenate.
Discover Detox Retreats now
If you want to lose weight but just can't do it due to heavy consumption of calories and cholesterol, then this post is the saving grace you need. Detox juices might be what you've been waiting for!
There are plenty of ways to drop those fatty pounds that keep piling up. You could either go to the nearby gym to do some rigorous benching, sprinting, push-ups and weight-lift or you can take a lighter route with a simple walk in the park. However, one of the most efficient ways to lose weight, with virtually no effort, it's detox juices!
What Is a Detox Juice and What Are its Benefits?
Detox juices are made from natural ingredients that you most certainly have at home, such as lemon, watermelon, cucumbers or apple cider vinegar. Best of all, they consist of the most essential nutrients that eliminate excess waste and pollutants from our body.
Here are some of the most essential benefits, apart from losing weight, that you can get by drinking juice:
Remove toxins from your body
Improve your skin health
Reduce inflammation
Enhance your mental alertness
Boost your energy
Grow healthier hair
Lower your cholesterol levels
Reduce the blood sugar levels
Bolster your athletic performance
If you are willing to give it a go, here are some of the most popular and effective detox juices recipes that you can prepare from the confines of your own home. What's interesting is that you can always experiment with new ingredients whenever you like. And if you want to become an expert, go on a juice detox retreat!
1. Tropical Carrot Apple Juice
Image source: AllRecipes
This drink consists of minerals, vitamins, and antioxidants that are highly nutritious and delicious. Carrots, for instance, are an excellent source of vitamins A, B, K, and potassium.
Ingredients:
1 large quartered apple
A quarter can of pineapple chunks
2 large carrots, ends trimmed
2 teaspoons of fresh ginger
2 large stalks celery
1/2 medium beet
2. Cucumber and Mint Juice
Cucumbers are rich in water, which is why they act as strong replenishing agents. They are a great source of vitamins A, C, K, B6 and minerals like potassium, manganese, biotin, iron, calcium and other elements.
Mint maintains healthy bowel movements and, along with cucumbers, act as antioxidants.
Ingredients:
2 whole peeled off cucumbers
A few mint leaves
A pinch of rock salt
Black pepper
This is one of the easiest detox juices to prepare and is great for a quick summer detox. You can add a bit of honey to sweeten it.
3. Tomato and Cucumber Juice
Image source: CookingOnPage32
Here's another drink that is really easy to make and super delicious. You already know the good aspects of cucumber, but the tomatoes give it that extra oomph since they fight off infections, reduce cholesterol levels, relieve joint pain, have antioxidant properties and destroy uric acid.
Ingredients:
3 ½ cups chopped tomatoes
1 stalk celery
2 cups diced cucumber
½ teaspoon ground black pepper
¼ teaspoon cayenne pepper
½ teaspoon sea salt
3-4 drops stevia (optional)
Use a juicer jar to pour all of the chopped vegetables and blend them together. Add cayenne pepper, black pepper and sea salt. You can also add honey to sweeten it up a bit.
4. Zesty Lemon Apple Juice
Image source: AllRecipes
Want a nice morning wake up drink? Get a sip of this baby.
Apples and cucumbers already check out in the health benefits department by themselves. Lemons are an excellent source of vitamin C, promote hydration, aid in digestion, improve skin quality and help you keep your mental alertness.
Ingredients:
1/2 cup cool water
1 cucumber, halved
2 green apples, quartered
1 lemon, halved
First, pour some water into the glass and place it beneath the juicer's spigot. Then, process the cucumber for 20 seconds for each half and do the same for each apple quarter and the lemon halves before stirring the juice rigorously to blend.
5. Red Zinger Breakfast Juice
Image source: Vitamix
Here is yet another simplistic detox juice to get your engines rolling in the morning. It has a high nutritional value from both fruits and vegetables along with a touch of lemon.
Beets serve as a good source of minerals and vitamins like potassium, folate, vitamin C, iron and manganese.
Ingredients:
2 apples, quartered
2 lemons - peeled, seeded, and quartered
2 beets, trimmed and chopped
2 carrots, chopped
Press all of the ingredients above through a juicer into a glass and drink up.
6. Orange Pineapple Drink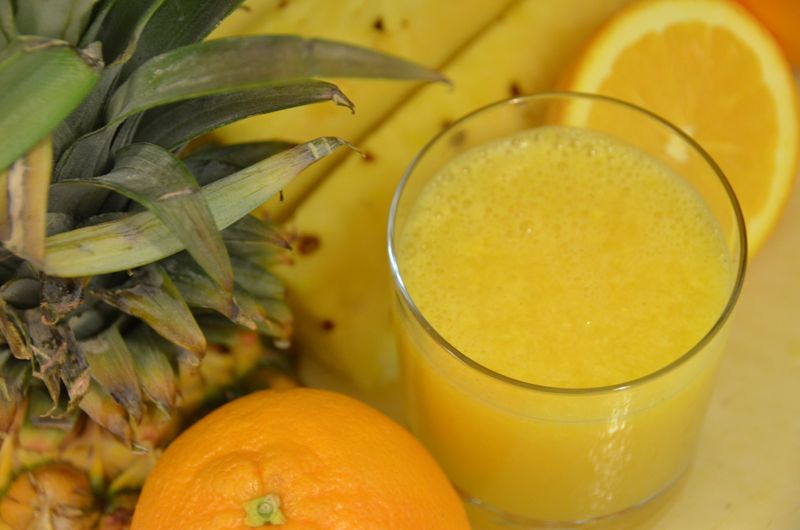 Image source: Rob Berholf
2/3 cup orange juice
3 scoops orange sherbet
1/3 cup pineapple juice
2 pineapple rings
Place the pineapple juice, the orange juice, and orange sherbet into a blender and blend until the solution smoothens. Pour the concoction into two separate glasses and garnish each of them with pineapple rings.
---
Want to learn how to detox your body with the support of health experts? Go on a detox retreat and get a better understanding of how detox juices work!
Abdul is a guest author from smiletutor.sg.