10 Amazing Foods That Will Naturally Detox Your Body
The go-to resource for planning your detox retreats. Find all you need to know about top destinations and how to rejuvenate.
Discover Detox Retreats now
Here we are, plowing through winter and looking forward to any sign of spring. We still feel sluggish after the holidays and those New Year resolutions seem to have already faded in the background. Now it's the perfect time to give our bodies a helping hand to get rid of toxins and thrive.
And before you think that you'd need to embark on a detox retreat, water fasting challenge, or try a juice detox, let me assure you that there are plenty of yummy foods that naturally detox and cleanse our body. Yes, you read that right. Just include following in your diet and enjoy their benefits.
Dark Leafy Greens
Perfect for delicious detox salads, dark leafy greens boost chlorophyll levels in the digestive tract, helping the body get rid of the environmental toxins. There are many amazing greens but you'd want to include these in your diet:
watercress – contains 228% of the daily recommended dose of vitamin D per 100 grams
Chinese cabbage – source of calcium and iron
chard – prevents diabetes
beet greens – contains 5 grams of fiber per serving
spinach – a great source of iron
radicchio – one of the best dietary sources of polyphenols
lettuce – provides 100% of the daily dose of vitamin K
parsley – packed with vitamin K
romaine lettuce – packs high levels of folic acid
collard greens – has cholesterol-lowering benefits.
Cucumbers
Cucumbers are extremely beneficial for our health, but they rarely get the attention they deserve. They support the digestive tract, cleanse the liver, help us stay hydrated, and reduce bloating and water retention.
They have amazing cleaning properties and actively remove toxins and waste from our bodies. boasting a perfect mix of fiber and water, as well as protecting the body from constipation and kidney stones. If you add cucumber juice to your diet regularly, it helps cure eczema and gout.
Carrots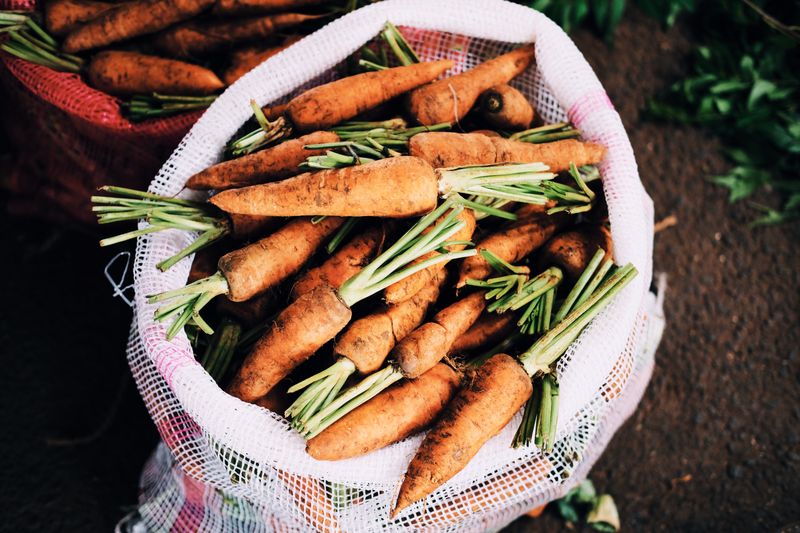 Carrots are one of the most powerful detoxing veggies out there. They are packed with vitamin A, which helps the liver flush out toxins. The same vitamin reduces the fat in the liver, while the fiber they contain helps clean out the colon.
Your mom didn't make you eat carrots for better vision for nothing. The same powerful vitamin A is transformed, in the retina, in a purple pigment which is necessary for night vision. The beta-carotene, on the other hand, slows down aging.
If you don't fancy a glass of carrot juice, then you can just grate them and toss them in a salad.
Beetroot
Beetroot contains betaine, which regenerates the cells in the liver that defends you against all toxins you are exposed to.
It is also an excellent source of folic acid, fiber, manganese, and potassium. It increases the numbers of white cells, thus helping the body eliminate abnormal cells.
Beetroot can be used in salads in many forms. Raw beetroot combines well with dark leafy greens, as well as carrots. You can also boil it or roast it. Or, if you like juices, mix it with carrot and apple.
Lemons
Lemons, as well as other citrus fruits, are great for the digestive system. They stimulate the body to release enzymes for digestion and vitamin C helps convert toxins into water-soluble forms that can be easily eliminated.
They are a great choice for those who battle anemia. Thanks to the citric acid and vitamin C lemons have, they help in the absorption of iron from plants. They also help prevent heart disease, kidney stones, reduce cancer risk, and help with weight loss.
If you don't feel like mixing them into citrus juices, then make a habit of using lemon juice on salads instead of vinegar.
Artichokes
Artichokes help produce bile which purifies and protects the liver. They are used in extracts to help digestion and reduce that icky "I'm too full" sensation. Their mild diuretic properties help the body eliminate the toxins once the liver breaks them down.
They are not the easiest vegetable to cook and some consider it an acquired taste. Try the pickled ones first but don't hesitate to learn from the Mediterranean cuisine which includes them in quite a lot of dishes, including as topping on pizza.
Cabbage
Cabbage acts as an excellent detoxifier as it purifies the blood and removes toxins due to the high content of Vitamin C and sulfur.
Its high content of iodine helps the brain and nervous system function properly and keeps the endocrine system in good condition. Vitamin E, on the other hand, is responsible for keeping the skin, eyes, and hair healthy. It prevents cancer thanks to the high content of antioxidants and the glutamine combats inflammation. Sauerkraut is an amazing source of lactic acid which helps reduce muscle aches.
Cabbage is a great addition to a salad. Mix it with carrots and leafy greens for a very powerful detox salad. Or add it to stir-fries if you feel like you want something warm.
Garlic
Garlic is one of the best detoxifying foods as it stimulates the liver to produce enzymes that filter toxic residues from the digestive system. And the sulfur compounds in garlic protect against organ damage from heavy metal toxicity.
Everyone knows that garlic combats the common cold. Studies have shown that a high dose of garlic can reduce the number of days sick with the cold or fly by 61 %. It also reduces blood pressure and improves cholesterol levels.
While its well-known smell doesn't score you any social points, you can still include it in salads when you don't plan to go out.
Apple
Apples help stimulate bile production, helping the liver get rid of the toxins. The fibers help you stay full for longer and the B-complex vitamins maintain the red blood cells and nervous system in good health.
Due to their high acidic content, it's best to include apples as part of your meals rather than munch on them throughout the day, as they can cause a lot of teeth damage.
Include them in salads – they go amazing with cabbage and carrot or beetroot and carrot – or overnight oats.
Tea
There are quite a lot of teas that support any detox program, including dandelion and green teas. Dandelion filters toxins and waste from the bloodstream, while green tea is full of anti-oxidants. Regular consumption of green tea has been proven effective in promoting weight loss.
Make a habit of swapping 2 or 3 cups of water a day with one or both teas.
---
Want to learn more about foods that naturally detoxify your body? Then choose one of the detox and weight loss retreats available.