Healthy Food Options to Complement Your Detox Retreat in Cape Town
The go-to resource for planning your detox retreats. Find all you need to know about top destinations and how to rejuvenate.
Discover Detox Retreats now
Are you traveling to South Africa for a detox holiday? You definitely have to spend some days in Cape Town after your retreat!
Cape Town is a very relaxed city with many things to do, see and eat. You might think that South Africa has a lot of not-so-healthy food options with meat as the main ingredient. But you'd be surprised to see how many vegan and vegetarian meals you can eat in Cape Town that are perfect to complement your detox retreat in South Africa.
Want to know where? Here are my favorite healthy and vegetarian food options in Cape Town:
Orchard on Long
Orchard on Long serves cold-pressed juices in their shop on Longstreet. Perfect after a juicing detox retreat, but also at any other time for a fresh and healthy juice. They sell all kinds of cold-pressed juices in either 300 or 530ml bottles.
You can go for Dr. Ozzy's Lemonade, for example, made with lemon, organic apple cider vinegar, apple, and cayenne pepper. Or try the Beetroot Buzz with beetroot, cucumber, apple, lemon, and mint.
Beside cold-pressed juices, they also sell smoothies, health shots and healthy food like the Bali fruit bowl with pineapple, chia seeds, strawberry, homemade granola, and coconut yogurt. Everything on their menu is vegetarian or vegan.
Tiger's Milk
Another nice option on Long Street is Tiger's Milk. It's actually a burger bar, but don't be too judgmental, it's a burger bar that also has plenty of healthy options. They have a 'tree hugger burger', which is a vegetarian burger with portobello, eggplant and feta cheese. Tiger's Milk also serves 3 different salads, one with avocado and tomatoes. They're also open for lunch and breakfast when you can get muesli with yogurt and fresh fruit.
Eating healthy at the beach? It's possible in Cape Town! The neighborhood Camps Bay is perfect for a relaxing day at the beach. On Victoria Road, right on the beach, you'll find Kauai. Kauaiis a great spot for brunch. Their breakfast menu which has a healthy breakfast bowl with dragon fruit is available all day.
They have 6 different salads like their Plant Power salad with lentils, avocado, cashews, green beans and cabbage. Looking for a healthy dinner after a day at the beach? Kauai serves serval warm bowls. The Asian Rainbow is my favorite; it's made with brown rice and quinoa, broccoli, carrot, cabbage, baby spinach and a sesame dressing.
They have many vegetarian options and your wrap can be made gluten-free, too. Besides regular smoothies, they also sell superfood juices, raw juices and protein smoothies.
If you're in Cape Town on a Saturday you're lucky! You can visit the Neighbourgoods Market in Woodstock. There are many food stalls serving all kinds of food. Whether you like Vietnamese Spring Rolls or potato fritters, there's something for everyone.
There's a bakery that has several dairy-free options and sells gluten-free and sugar-free cakes. Lovers of Middle Eastern and Mediterranean food can go to Cooked. My favorite stall is the one from Salad Lover's. They have different salads every week but they're always delicious!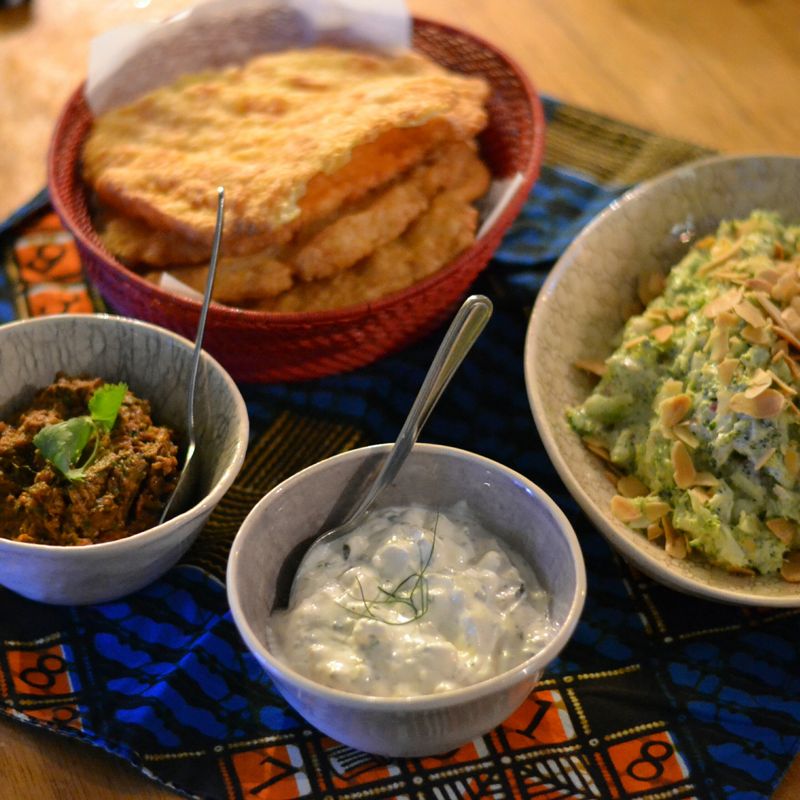 Want to have a real African meal in Cape Town? At the Africa Cafe, you can really get a taste of the whole continent.They'll put no less than 16 different dishes on your table, each from different countries in Africa. There are many healthy and vegetarian options like Cape Malay lentil curry, Congolese spinach and Ethiopian white curd cheese with home-grown herbs.
Inspired by the African cuisine? You can make your own vegetarian bobotie at home!
When you're on vacations, a little treat is always permitted. Especially if that treat is healthy ice cream from Unframed on Kloof street. They make their own artisan ice cream from scratch and using sustainable food. They always have 10 flavors for sale, based on the season, availability and inspiration.
They always have at least 2 sorbets and 3 vegan flavors at all time. When I was there they had mint chocolate chip, caramel, coconut raspberry and chocolate as vegan flavors.
---
Don't have too many days to try all these dishes? Go on a detox weekend in South Africa and make use of your free time to visit Anne's suggestions.
Anne is a guest author from AnneTravelFoodie. Want to read more about Cape Town and what you can see, do and eat here? Check out annetravelfoodie.com/south-africa.