How Your Skin Can Benefit from Himalayan Pink Salt
The go-to resource for planning your detox retreats. Find all you need to know about top destinations and how to rejuvenate.
Discover Detox Retreats now
Not all of us are blessed with perfect skin but we all want it! With processed foods, pollutants, harmful chemicals and harsh UV rays that pose a daily threat to our skin, we need to compensate it somehow by using natural products.​
Extracted in its most natural form from the ancient sea deposits in Khewra Salt Mines, Pakistan, the Himalayan pink salt, with its plethora of health benefits, is becoming the latest trend in the wellness industry and a great way to get rid of the toxins on our skin.
With all the extra minerals that are absent in regular table salt, Himalayan pink salt is deemed healthier by many people. In addition to being a better option than refined sea salt, it is also beneficial in the treatment of specific skin conditions; whether it is by topically applying it as a solution in water, used as bath salt or scrub, or ingested in food, Himalayan salt has plenty of healing powers!
Body Odor
Nothing's more embarrassing than having a bad odor in public. It's unhygienic and shows that you lack basic etiquettes. However, many recent studies have doubts about the safety of commercially available antiperspirants, deeming them a possible cause of breast cancer.
So, why not use an astringent that is risk-free, all natural and is also antibacterial? Make your own Himalayan pink salt deodorant at home! Himalayan salt detoxifies and neutralizes the skin and it also kills the germs that produce bad body odor.
Oily Skin
This miraculous salt combats sebum, which means that it could be the answer for those who just can't get rid of the greasy skin. As a bonus, Himalayan pink salt can be used in water as 'brine' to disinfect pores and cleanse the skin to remove oil buildup. This salt reduces the shine and oiliness on your face and could give you the clean skin you have always wanted.
Uneven Skin Tone
Image credit: GodnessDirect.co
This all-natural product, extracted in its purest form, can balance your skin tone and give you a smoother look. If used regularly, this rejuvenating salt can reduce the effect of tanning and fade away any dark spots on the skin.
Psoriasis
A distressing disease known for its high prevalence and genetic cause, psoriasis affects the skin and joints. Itch and red scaly patches are typical of this condition. Himalayan pink salt with its anti-inflammatory properties can be beneficial for controlling these skin lesions caused by psoriasis.
Fine Lines and Wrinkles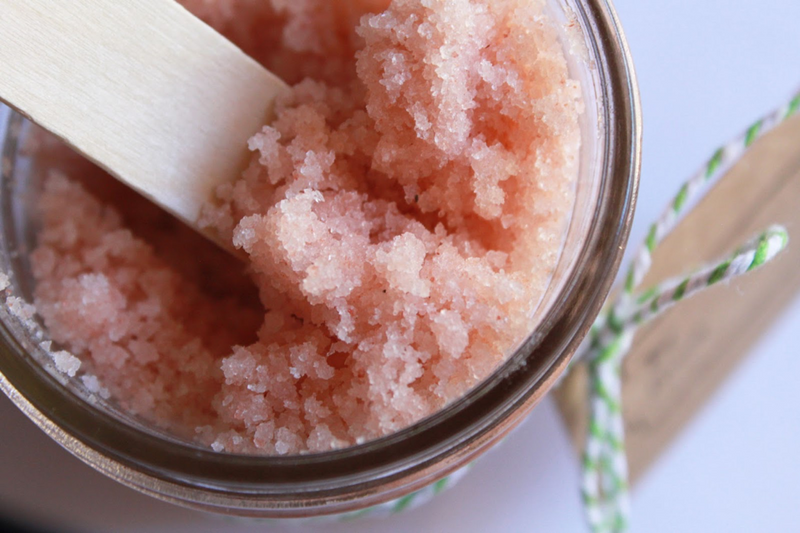 Image credit: WeeklyEssential
The rejuvenating effect of Himalayan Salt can make your skin look younger. Get rid of fine lines and wrinkles by topically applying this salt in the form of brine. Use it regularly to get rid of those wrinkles and say hello to a smoother skin that glows.
Acne
Caused by increased secretion of sebum, acne is a skin condition that can vary from person to person. It includes the formation of blackheads, whiteheads and pustules that can leave scars upon healing. Research shows that squeezing pimples can cause the pus to penetrate deep into the skin, causing scars upon healing.
Make a DIY mask at home with Himalayan pink salt, essential oils and honey, and see its magical effects on acne! The detoxifying effects of this salt will remove dead and oily skin, the two main culprits in causing acne. You can also use a cool solution of 100 grams of Himalayan salt in 3 liters of distilled water to wash your face daily to get better results.
Eczema
Also known as dermatitis, eczema is a non-contagious skin condition characterized by blisters and inflammation on the skin that can cause itchiness and discomfort. Himalayan Pink salt can be used to alleviate eczema symptoms by making a solution of it with distilled water and applying topically on the affected areas. This salt can cause blisters to release their water and heal subsequently. It can also provide relief from itchy skin, and neutralize it thanks to its alkaline nature.
If you want to achieve better results, try an alkaline diet retreat to get rid of all the toxins on your skin.
Insect Bites and Wounds
With its antiseptic properties, Himalayan salt can be applied topically over insect bites or wounds to prevent them from getting further infected and to ensure a smooth healing process.
Moreover, claims of its use in the treatment of herpes and prevention of secondary infection of herpetic lesions have brought more attention to this salt.
Last words
The soothing power of Himalayan pink salt is undoubtedly incredible due to the presence of many skin-nourishing elements such as chromium, zinc and sulfur.
In this technological era and age of processed foods, most of the companies are trying to include this pure unrefined pink Himalayan salt in their skincare and food products to give us more options for a healthier lifestyle.
SOURCES:
Ferreira P, Hendel B. "Water & Salt: The Essence of Life." Natural Resources (2003)
Chervinskaya A.V. "Prospects of Halotherapy in Sanitarium-And-Spa Dermatology And Cosmetology."
http://saltcave.co.uk/halotherapy_in_dermatology.pdf
Boehncke WH, et al. "Psoriasis." The Lancet (2015)
https://www.ncbi.nlm.nih.gov/m/pubmed/26025581/#fft
Anonymous. "Skin Care For Acne Prone Skin." IQWiG (2016)
https://www.ncbi.nlm.nih.gov/pubmedhealth/PMH0072392/#_PMH0072392_pubdet_
Darbre PD. "Aluminium, Antiperspirants And Breast Cancer." J Inorg Biochem (2005)